SMOKIN' HOT DEALS
Don't Miss These Great Deals...
Limited Time
Every once in a while Cotton Gin will run special deals so that folks can try our amazing smokers (or other products). Feel free to check back with us often and see if we have a deal that's right for you!
Bookmark this page and check back...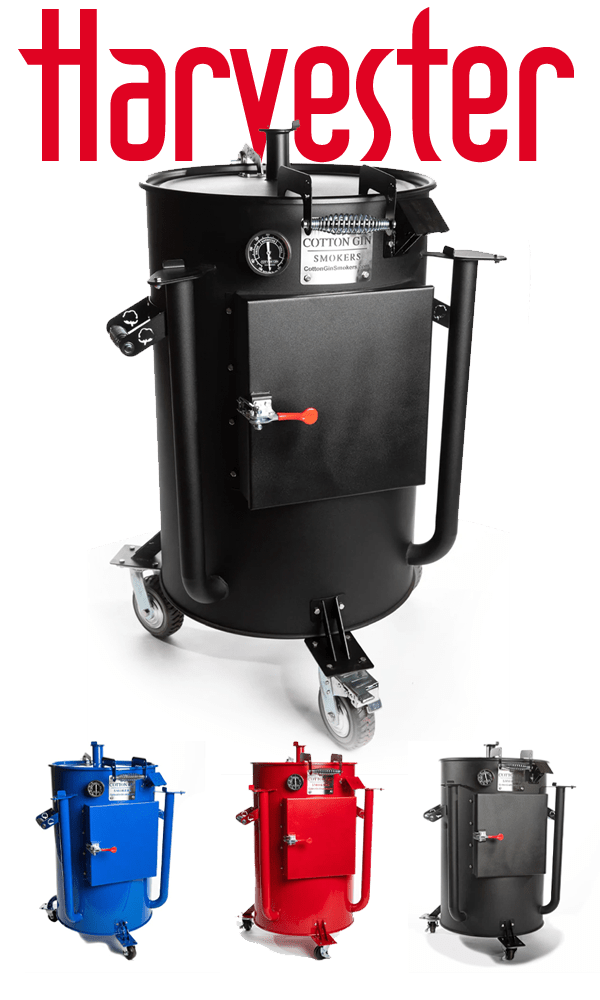 Save Big on this amazing Drum Smoker
THE HARVESTER
PREMIUM BBQ SMOKER
From Cotton Gin Smokers
Normally $1,400
NOW ONLY $1,249
or pay in 4 easy payments of $426.78 each
or as low as $112.73/mo with special payment options

The Harvester is our premium beast of a smoker. Imagine being the talk of the neighborhood or a competition sight. This model touts a dual access door on the front where you can add your very own custom logo panel. With this access door, it allows you to add fuel to your charcoal basket as well as check on your meat. This is a great feature to use while hanging some lip-smacking ribs from the tribar meat hanger. You will notice the convenience of having 2 upright intakes on the front of the smoker. Check out all the bells and whistles this amazing setup has to offer...
2 side handles
Lid Handle Exhaust
Stainless Steel Hinge
Caster Mounts
Front Door Access
Heat Shield
Baffle Plate
Round Charcoal Basket
2 Upright Intakes
Laser Cut CGS Grate
Tri-Level Grate System with Rib Hanger
Single Powder Coat Options (Red, Blue, Black)
Flat rate of $150 shipping on BBQ smokers to most U.S. locations!
Smokers are custom-built and ship in 10-12 weeks.